Bracelets – jewelry made from wood and shell. Natures best. Purely handmade.
It is an article of jewelry which is worn around the wrist. Beautiful and unique fashion bracelets accessories are manufactured by Jumbo Pacific Inc from natural components like leather, cloth, hemp, plastic or metal, and sometimes contain rocks, wood, and/or shells. View some samples below.
---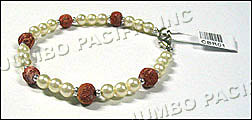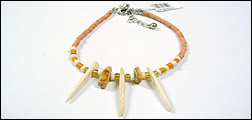 ---
Costume jewelry made in Philippines. Beads jewelry and accessories made with all kind of sea shells. We have a large collection of mother of pearl shell necklaces, chokers, bracelets, bangles, earrings and other body jewelry made of mother of pearl shells (MOP Shell), cowry shells (also spelled cowries shell), abalone, tiger shells, corals and other sea shells. These organic and natural materials with glass beads, seed beads, cord, silver wire or guitar string. All handcrafted in Philippines by Filipinos skill craftsmen. Import jewelry made in Philippines?
---
Bracelets Special Product:
Please click the Banner to View more Bracelets: